Affinity is a characteristic parameter to evaluate the strength of the interaction between two molecules in the process of reversible reaction. It is an important indicator to understand molecules, identify biological processes, and discover and screen drugs. It is of great significance in early drug research and development, screening and identification, as well as quality control in downstream production, and is also widely used in basic research of life science, biopharmaceutical development and other fields.
KMD Bioscience has been committed to the study of interaction between biomolecules for many years, and our scientific experts have accumulated many years of experience in interaction research and detection. With rich technical experience, we can provide customers with high-quality affinity measurement services. We insist on fine control of each step of experiments to ensure the smooth progress of customers' experiments. At the same time, the company has a rich product pipeline, which can realize the qualitative and quantitative analysis of protein, antibody and Fab fragment interactions.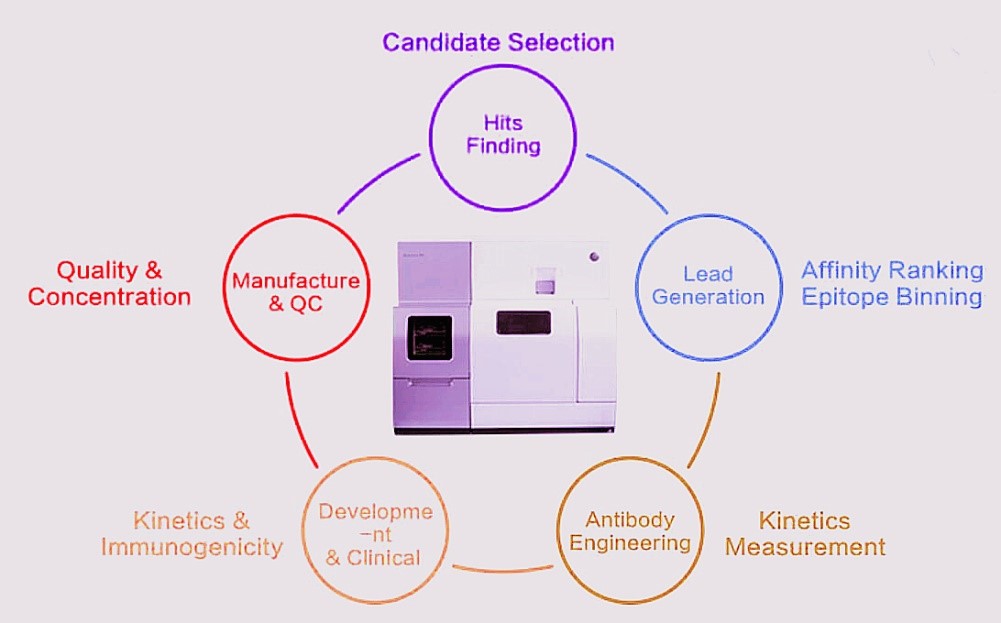 Service Content:
KMD Bioscience provides accurate and rapid affinity testing based on Octet and Biacore platforms, and provides unique molecular interaction analysis services based on customer requirements, including the commonly used detection techniques in the industry: Surface plasmon resonance (SPR) and Bio-Layer Interferometry (BLI) guarantee accurate, objective and reliable detection results. We focus on providing customers with high quality one-stop technical services to meet the experimental needs of different customers.
--Surface plasmon resonance, SPR
--Bio-Layer Interferometry, BLI
--Competitive ELISA Affinity Determination Services
Sample Requirement:
Sample Types

Inevitable Requirement

Antibodies, proteins, peptides, small molecules of compounds, etc

* Buffer solution: PBS, HEPPS and other organic reagents, no Tris, EDTA or DDT;

* Protein sample (including antibody) : 200ug, concentration >0.5mg/ml;

* Polypeptide sample: 200ug, concentration >1mg/ml;

* Small molecule compound: 1mg, concentration >1mg/ml, purity >90%, soluble in 100%DMSO or water.
Service Highlights:
--Rich experience in affinity and kinetics measurement
--Different types of complementary technologies
--Extremely high accuracy by professional operation and strict quality control
--High-throughput affinity characterizations by using upgraded Octet systems
--Label-free measurement, no additional lead time
--One-stop downstream services, including gene synthesis, custom cloning, or mutagenesis
How to Order?
If you have any questions regarding our services or products, please feel free to contact us by E-mail: info@kmdbioscience.com or Tel: +86-400-621-6806