Surface Plasmon Resonance Imaging (SPRi) Service
Surface Plasmon Resonance imaging (SPRi), namely surface plasmon resonance microscopy (SPRM). It is a labeling-free, real-time, high-throughput technique for studying biomolecular interactions based on the refractive index change signal caused by molecular binding. SPRi has been used to detect affinity between biomolecules, screen biomarkers and detect active samples.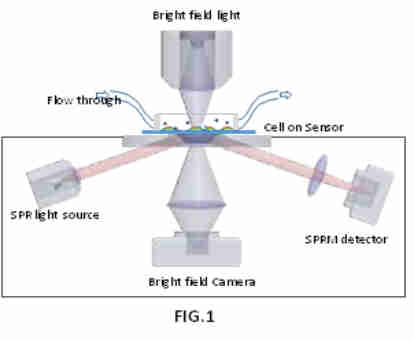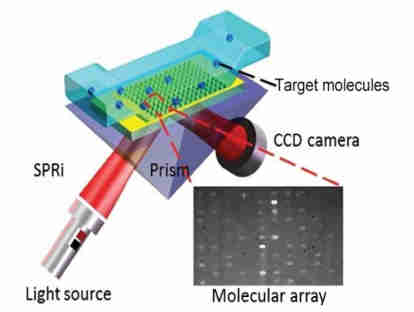 Basic principle:
SPRi is an optical detection method that occurs when polarized light hits a prism covered with a thin layer of metal (gold or silver). At certain incident angles, some of the light energy is coupled with the coating and generates surface plasma waves at the interface between the sample and the coating. The change in the refractive index of the surface due to the mass change is very sensitive to the incident angle required to maintain the surface plasma wave.
Our Services:
When combined with appropriate surface compounds, soft fluids and software, SPRi is leading the way in its range of applications for measuring binding rates, dissociation rates and affinity. KMD Bioscience offers SPRi (Surface Plasmon Resonance imaging) services including Biochip Design and Printing, Bio-interactions Analysis (binding affinity and kinetic processes detection) and Summary & Analysis of the results. Typical SPRi services include:
-- Protein/protein interaction
-- Protein/carbohydrates interaction
-- Protein/DNA interactions
-- Antibody (protein)/bacteria interactions
To save you time and energy, KMD Bioscience provides you with one-stop and customized services. You only need to give us the basic details of the experiment, and then our scientists will provide a comprehensive solution based on your desire. After the service is completed, you can get the complete results and experimental data of SPRi.
How to Order?
If you have any questions regarding our services or products, please feel free to contact us by E-mail: info@kmdbioscience.com or Tel: +86-400-621-6806;