KMD Bioscience provides standard linear peptides and various modified peptide synthesis services according to customers' project needs. Modified peptides are widely used in peptide drug research, immunology, biocatalysts, antibody modification and peptide reagents. KMD Bioscience provides a wide range of peptide modification services and can amide or acetylate peptide sequences, modify disulfide bonds and label peptides. We use BSA, KLH, and OVA for peptide conjugation services. The peptide modification and conjugation services provided by KMD Bioscience are based on the rich experience of the technologists and advanced technologies to meet the diverse needs of customers.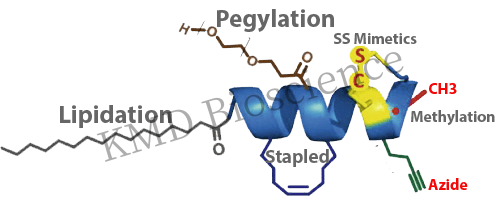 Figure 1 Peptide modification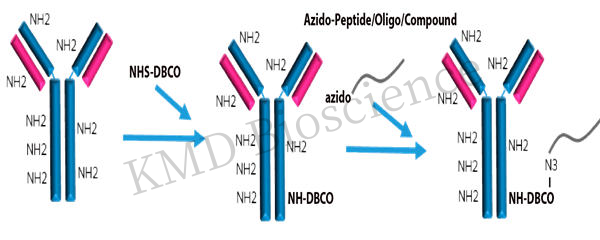 Figure 2 Peptide antibody conjugation
Amidated (C-terminal) or Acetylation (N-terminal):
Acetylation (N-terminal), HYNIC (N-terminal), DTPA (N-terminal), Formylation (N-terminal), Fatty acids (N-terminal), Myristic acid (N-terminal), Palmitoyl (N-terminal) , Benzyloxycarbonyloxylation (CBZ), Amidation (C-terminal), Succinimidylation (Suc, N-terminal), and others.
The Special Amino Acids:
D-Arg, D-Cys, D-Asp, D-Asn, D-Glu, D-Gln, D-Ser, D-His, D-Thr, D-Trp, D-Leu, D-Ile, D- Met, D-Pro, D-Val, D-Phe, pGlu, Hyp, D-Lys, D-Tyr, D-Orn, Orn, Abu Aib, (D) 1-Nal, (D) 2-Pal, (D) 4-Cl-Phe, Nva, Nle, Hse, Hcy, Pen, Mpa, N-methyl amino acids (Ala, Phe, Leu, Ile, Val, Gly, Met), other amino acids, dinitrobenzoylated (Lys), Lys (Me2), phosphorylated ( Tyr, Ser, Thr, single dot), Tyr (SO3H2), Ser (octanoic acid), etc.
Fluorescence/Dye Labeling:
Biotin (N-terminal, Y/N Ahx), Biotin (lysine in the sequence), Biotin (no lysine in the sequence), FITC / 5-FAM (N-terminal, Y/N Ahx), Danesulfonyl (N) End, Y/N Ahx, MCA (N-terminus), p-Nitroanilide (pNA, C-terminus ), AMC (C-terminus).
Various Disulfide Bond Modifications:
Disulfide bonds play an important role in stabilizing protein structure, and KMD can provide four pairs of disulfide bond-modifying peptides.
Diverse Phosphorylation:
KMD Bioscience can synthesize phosphorylated peptides such as serine, threonine and tyrosine. We provide monophosphorylated and polyphosphorylated peptide services and modified peptides with four phosphorylation sites.
Carrier Protein Conjugation:
Peptide antigens are referred to as semi-antigens because they have small molecular weights and do not elicit significant immune responses. KMD Bioscience couples peptide antigens to relatively large protein carriers such as KLH, BSA, and OVA via cysteine.
Polyethylene Glycol Modification:
Polyethylene glycol modification refers to the chemical conjugation of non-toxic, non-repulsive, non-ionic, highly hydrophilic polyethylene glycol polymers into larger molecules (proteins, peptides, etc.).
Lsotope Labeling:
Isotope-labeled peptides are mainly used in the medical and biological fields and are relatively expensive. In response to customer needs, we produce micrograms of isotope-labeled peptides on a contract basis.
Multi-Antigen Peptide Modification:
Multi-antigenic peptide (MAP) is an effective method for the production of high-antibody peptide antibodies and peptide vaccines. Multi-antigen peptides form a main chain with the a- or e-group of lysine, and multi-copy peptide antigens form branching peptides on the outer surface layer. Depending on the number of lysines, multi-antigen peptides with different numbers of side chains can be synthesized, and this method involves the conjugation of antigens to carrier proteins to obtain antibodies with high titer and strong affinity.
Fluorescence Quenching Peptides:
Abz / Tyr (3-NO2), EDANS / DABCYL
Service Highlight:
--Modified peptides with four disulfide bond sites can be provided
--KMD Bioscience provides mature peptide fluorescent labeling and modification platforms
--KMD Bioscience provides biotin-modified peptides with high success rate.
--Modify individual peptides with four pairs of disulfide bonds
How to Order?

If you have any questions regarding our services or products, please feel free to contact us by E-mail: info@kmdbioscience.com or Tel: +86-400-621-6806.