Stable RNAi Cell Line Generation: Stable Gene Knockdown
Integrating exogenous plasmid DNA into the chromosome of host cells, and then expressing the target protein for a long time, which is called a stable cell line. High-quality stable cell line plays an important role in biological research, including biosimilar development, gene function research and recombinant antibody production. However, constructing an effective cell line is a complex and time-consuming task. That's why KMD Bioscience exists. KMD Bioscience has rich experience in stable cell line construction, and our cell lines are available for direct application to downstream biological research. We believe you can achieve more on innovative research with the help of KMD Bioscience. Supported by advanced technology and dedicated research teams, KMD Bioscience can provide the following services:
IOS RNAi Stable Cell Line Construction:
KMD Bioscience can provide RNAi stable cell line services based on our patented IOS (Integration Operating System) recombination technology. Backed by this technology, the target shRNA was integrated into the genomic high expression sites. These sites are not only safe (no gene), but also have higher gene expression levels (active expression sites), so that shRNA can be transcribed and expressed at a high level, then interfere with the target gene and stably inherited for a long time. In addition, transient expression services are also available.
Service Procedure: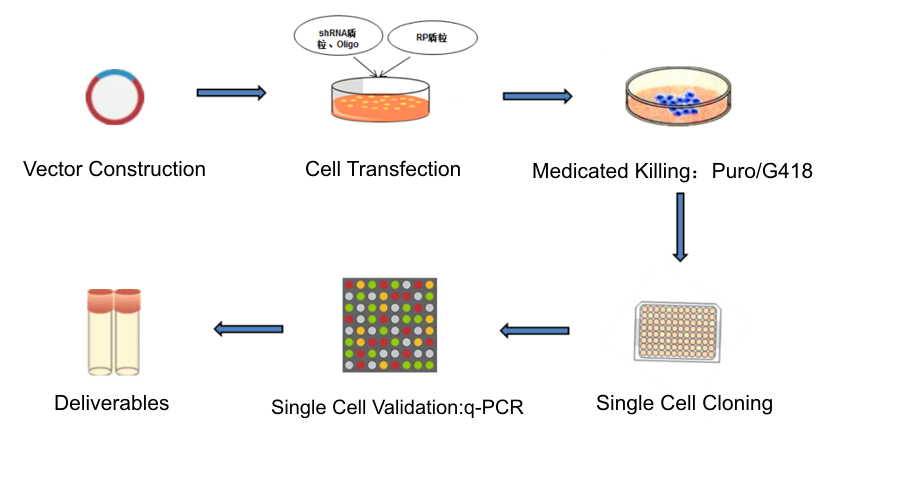 Service Highlights:
--We customize our offering to meet your specific project needs and provide experienced scientific support every step of the way.
--Using IOS technology, high integration efficiency, permanent integration and heritable, can achieve ultra-high copy gene integration.
--Multiple genes can be inhibited simultaneously.
--Stable inheritance, the gene will not be lost in the process of passage.
How to Order?
If you have any questions regarding our services or products, please feel free to contact us by E-mail: info@kmdbioscience.com or Tel: +86-400-621-6806