KMD Bioscience has been dedicated to molecular biology and cytogenetic research for many years, our scientists, with their rich experience and years of knowledge accumulation, are able to customize one-on-one protocols according to the specific needs of our clients and develop different types of probes for fluorescence in situ hybridization (FISH). And KMD Bioscience has a standardized procedure for the customization of the protocols, the design and synthesis of the probe, hybridization and detection, and the final data analysis to ensure that we can provide high-quality, customizable FISH services to support our clients' research projects. From protocol design and synthesis to hybridization and final data analysis, we have standardized procedures, a comprehensive technical service system and a team of experienced and rigorous research experts to ensure that we can provide high-quality, customizable FISH services to support our clients' research projects.
FISH is a combination of non-radioactive molecular biology and cytogenetic technology, which uses fluorescent probes to visualize specific locations on chromosomes by specific binding to target sequences on the chromosomes, which is fast, accurate and efficient to help us carry out research and analysis at the gene level, and is widely used in gene expression analysis, chromosome structural and numerical abnormality detection, rapid clinical diagnosis of cancer, prognostic markers, human prenatal diagnosis and so on. It is widely used in gene expression analysis, detection of abnormal chromosome structure and number, rapid clinical diagnosis and prognosis of cancer, human prenatal diagnosis and other fields, and has very important application value. The customized FISH probe service solutions provided by Kamed Bio are not only satisfied with single-gene and single-region analysis. We offer custom-labeled FISH probes for a range of molecular biology and cytogenetic projects.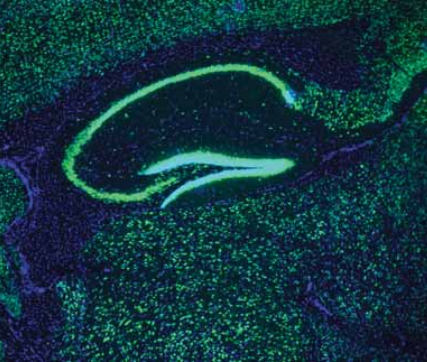 FIG1 LNA oligonucleotide probe for detection of mi-R-124 in adult mouse brain
Customized S

ervices:       
KMD Bioscience provides consulting services throughout the client's program: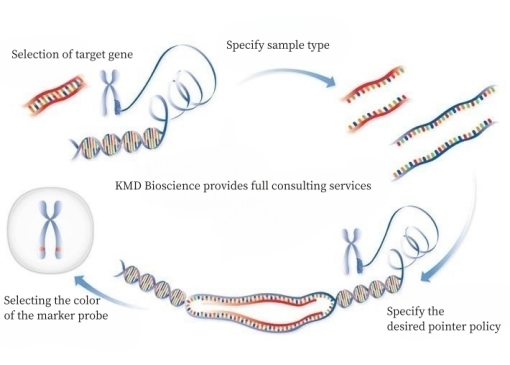 FISH Probe Type:   
| | |
| --- | --- |
| Probe Type | Advantage |
| Double-stranded DNA Probes | * Currently widely used, simple, not easily degraded, and once cloned, a large number of labeled probes can be obtained using the same amplification and labeling procedures |
| Single-stranded DNA (ssDNA) Probes | * Stable, easier to use, more specific resistance to RNase, better tissue penetration, no self-hybridization |
| RNA Probes (Ribosomal Probes) | * Higher thermal stability, better tissue penetration, higher specificity, less RNase effect |
| Synthesize Oligonucleotides | * Economical, stable, specific, resistant to RNase, good tissue permeability, good reproducibility |
According to the customer's project needs, KMD Bioscience can provide a one-on-one consultation with our technical experts (for details, please consult our technical experts or fill in the information registration form, our technical support will contact you). 
Fluorescein L

abeling

M

ethods for

P

robes:     
-- Indirect labeling: biotin-labeled probe, hybridization followed by coupled with fluorescein affinity or streptavidin detection, at the same time, affinity-biotin-fluorescein complex can be used to amplify the fluorescent signal.
-- Direct labeling: Fluorescein is directly covalently bound to the nucleotide or pentose phosphate backbone of the probe, or fluorescein nucleoside triphosphate is incorporated into the probe when labeling by the notch-shift method.
Deliverables:   
--Customized FISH probes
--FISH probe validation results (QC report)
Service Advantages:    
--Provides personalized customization service to meet customer needs
--Provides design and customization service for probes larger than 150kb, with high specificity and low error rate
--Can design and synthesize a wide range of probes, including most plants, animals and microorganisms
--A team with rich experience and mature technology can provide probes that can quickly and accurately recognize specific binding sites, stable and long-term storage
-Provides FISH probe validation to ensure that the probe binds to the expected chromosomal region
-Provides one-stop technical service from customization, probe preparation to probe quality control
How to O

rder?    

If you are interested in our service program, please call the hotline directly: + 86-400-621-6806 or send an email to info@kmdbioscience.com