| | |
| --- | --- |
| | KMD Bioscience has built up a mature antibody production platform with our well-established antibody engineering technology. Based on our mature antibody system and advanced technology, we can offer comprehensive polyclonal antibody production services including the production of polyclonal antibodies in mouse, rat, rabbit, and other species. Meanwhile, we can accept various antigens for polyclonal antibody production, such as small molecules, peptides, modified peptides, proteins, fusion proteins, modified proteins, etc.  |
KMD Bioscience has experienced immunology experts, standard operating procedures, and standard animal facility, which can provide high-quality antibody products and technical services to scientists and researchers. We promise to provide high-performance donkey polyclonal antibody production services and related testing services. Moreover, we ensure the ELISA titer of the positive antisera & antibody can reach 1:50,000 and ensure the western blot results for protein antigens.
Service Process: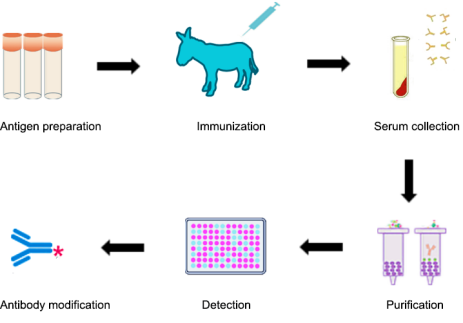 Service Content:
Procedure

Description

Timeline

Immunization

* Clients provide the antigens (small molecules, peptides, proteins); Purity>85%, concentration>0.5mg/mL, ~2mg

* Immunize one donkey, 5 boosts, ELISA titer determination

* Negative control: pre-immune serum collection before the first immunization, 1mL

* Serum harvest and ELISA titer determination

* Deliver ELISA report, 1mL pre-immune serum and 250-500mL antisera to investigators

12-14 weeks

Consecutive bleed

* Inject 500ug antigen mixed with 0.5mL Freund's incomplete adjuvant per donkey

* 100-150mL blood is collected after every two weeks and ELISA titer determination

* Ship the product & reports to investigator to test the serum and determine the antibodies' quality

2-3 weeks/phase

Total bleed

* Collect all the blood and the donkey is humanely euthanized

* Serum collection, provide the products according to investigator's requirements

1-2 weeks

Purification

* Purify the donkey sera by DEAE or affinity chromatography

* Deliver the purified polyclonal antibody to investigators

1 week
Besides, we can provide the following antibody services:
--Antibody Identification: ELISA, WB, IF, IP, IHC, SPR, etc.
--Antibody Modification: Enzyme modification (HRP, AP, biotinylation), fluorescent labeling (FITC, FAM, etc.), fusion label (GST, His), magnetic beads labeling, quantum dot labeling, etc.
Deliverable:
Materials

Description

Serum

* 1mL pre-immune serum and 250-500mL antisera

Antibody

* DEAE purified antibody: 20-40mg

(10-20mg purified antibody will be delivered if investigator choose antigen affinity purification)

Report

* Immunogen sequence, SDS-PAGE result, expression & clone sequencing report, ELISA titer result

* According to the investigator's requirements, we can also provide the validation result of WB, IHC, IP, IF
Service Highlights:
--Rich experience in polyclonal antibody development
--High affinity and specificity
--Large scale production capability
--Strict quality assurance: cGMP management rules
--Guaranteed positive western blot result and high ELISA titer 
--A variety of antibody purification techniques are available
--One-stop services, including antigen production, antibody development, antibody purification, titer determination and related services
How to Order?
If you have any questions regarding our services or products, please feel free to contact us by E-mail: info@kmdbioscience.com or Tel: +86-400-621-6806;