KMD Bioscience is experienced in antibody production. Supported by skilled scientists and a mature antibody production platform, we can provide you with high-quality monoclonal antibody production service. With many years of experience in phage display technology projects, KMD Bioscience has successfully produced bovine monoclonal antibodies, especially those with ultra-long CDR3 (Complementarity Determining Region 3). 
Bovine can produce antibodies with an extra-long CDR3 loop and a few variable regions in antibody-related studies. Under natural conditions, approximately 10% of bovine antibodies contain this extra-long CDR3 structural domain, which forms a knot-like shape and primarily mediates the affinity of the antibody for the antigen, giving it a higher antigen binding capacity. To overcome the conformational entropy loss mechanism associated with long loops, bovines use disulfide bonds to anchor the extra-long CDR3 structural domain.
The bovine monoclonal antibody produced by KMD Bioscience has a high Immunologic affinity. Related testing services are available and the quantity supplied is guaranteed to meet your experimental requirements.
Features:
Bovine monoclonal antibodies have unique advantages in the study of antigen structure. The extra-long CDR3 loop of the bovine antibody is the longest of any other species (50-61 amino acids) and facilitates the recognition of deep-seated epitopes. Structural and deep sequencing analysis shows that the CDR3 extra-long loop contains an even number of cysteines, forming a specific structure in which the cysteines are involved in the formation of a diverse disulfide-bonded "knob" domain supported by a β-chain "stalk". This long CDR3 loop allows bovine antibodies to more effectively attack a wide range of bacteria and viruses or to capture molecular targets, particularly antigens that are not recognized by conventional antibodies, such as GPCRs. KMD Bioscience provides greater access to bovine monoclonal antibodies with high purity and high specificity using proprietary protocols.
KMD Bioscience offers bovine monoclonal antibody production services based on phage display technology. Customized services are available to meet your needs, including peptide antigen design and protein antigen production.
Services Process: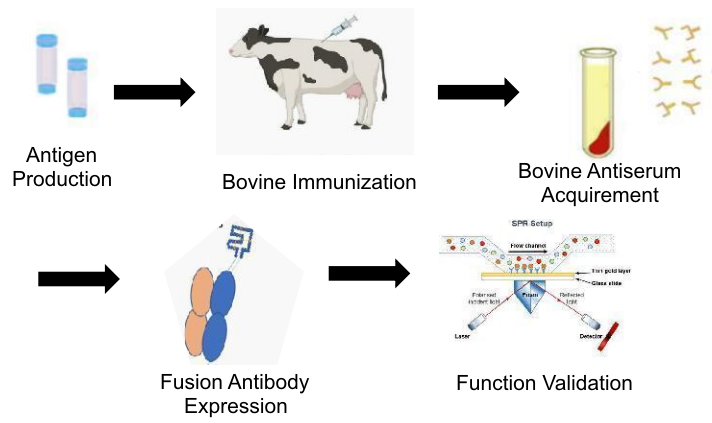 Services Procedure:
Steps

Specification

periods

Step1:

Bovine Immunization

* Antigen injection to immunize 5-7 times

* Serum collection and serum titer testing by ELISA

* Detailed immunisation reports available

10-14weeks

Step2:

Cell Separation

* Collection of immunised bovine blood for cell separation

* Sorting of antigen-specific immune cells

* cDNA library construction

1-2 weeks

Step3:

Gene Amplification

* PCR amplification of target genes

* sequencing

4-5 weeks

Step4:

Fusion Antibody Expression

* Vectors construction

* Fusion antibody expression

* Screening for positive clones

6-7 weeks

Step5:

Function Validation

* BLI validation
Deliverables:
--Monoclonal antibody extra-long CDR3H sequencing information and raw data
--B cells from blood, lymph and spleen cells (>5x106/project); cDNA library, 3-4 vials/project
--Constructed expression vectors
--High purity fusion antibodies (>90%)
--Experimental reports and raw data: results of SDS-PAGE, ELISA assays, etc. and, upon request, antibody validation results such as Western Blot, SPR, etc.
Services Highlights:
--pM grade affinity and high specificity
--Sequence diversity
--Multiple antibody expression validation options are available
--High cell fusion survival rate to ensure experimental success
--Strict QC system and standardized operating procedures to ensure delivery of high-quality antibodies
--Diverse antibody purification technologies and protocols
--Diversified antigen immunization: accepting proteins, peptides and various small molecule antigens, one-stop service from antigen production to antibody production
--Diversified antibody assay methods: ELISA, WB, SPR and other antibody quality testing technologies, enabling a comprehensive assessment of antibody quality
--Complete platform: mature antibody and protein platforms, multiple expression systems to choose from, multiple immune pathways, and simultaneous experiments, ensuring high quality of monoclonal antibodies
--Complete analysis of results, with detailed reports on experimental procedures
--Customizable services: Personalized services are available to meet your individual needs
How to Order?
If you have any questions regarding our services or products, please feel free to contact us by E-mail: info@kmdbioscience.com or Tel: +86-400-621-6806