KMD Bioscience has been exploring antibodies for over nine years. Years of practice have given our scientists the experience to quickly identify problems in your test protocols, solve them efficiently, and answer questions targeted to your needs. Mature platform, advanced technology, and professional staff can provide you with customized monoclonal antibody of different species. Based on the excellent platform system construction of antibody platform and protein platform, KMD Bioscience covers the upstream and downstream services of antibody production, and can offer one-stop technical services, including antibody customization, antibody purification, antibody sequencing, antibody affinity maturation and so on.
Goat Monoclonal Antibody Production Background:
Goat, which is closely related to sheep, belongs to the subfamily Caprinae. It is one of the typical species that are generally distant from humans and rodents (e.g. mouse). Besides, a goat has been utilized to raise antibody products for a very long time, especially suitable for large-scale production. The goat possesses a sufficiently large amount of antiserum, about 7-8 times to that of small animal individuals. Furthermore, its serum contains over 20 mg/mL of total IgG, which is 2-3 times richer compared to alternatives. Unlike other smaller host species (such as rabbits and mice), a large quantity of antibodies can be obtained from a single immunized goat due to its tremendous yield of serum. Therefore, goat has been considered as an ideal host for large-scale antibody production with high stability and lower cost. Monoclonal goat antibodies have been proven as a powerful tool and utilized for a variety of applications, such as immunodiagnostic kits, Host Cell Protein (HCP) Assays and potency assays.
Based on the in-depth expertise in phage display library construction and biopanning, researchers from KMD Bioscience have successfully tailored goat monoclonal antibody libraries with considerate capacity and diversity, from which binders targeting distinguished antigens with high specificity and affinity can be isolated. Besides, synthetic goat antibody libraries are also available for specific demands. KMD Bioscience guarantees our customers the high quality of our services and is always pleased to share our professional knowledge and technologies to assist your leading-edge research projects.
Service Process: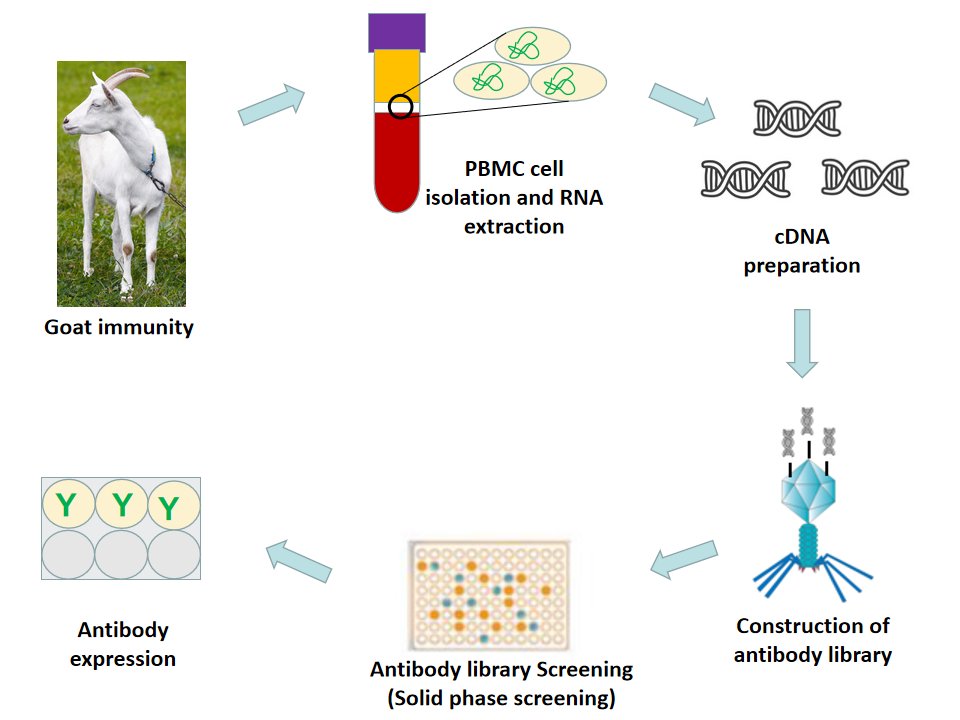 Service Procedure:
Steps

Specification

periods

Step1: Goat Immunization

* A healthy, full-aged Goat was immunized 5-7 times

* Serum titers were measured by ELISA and collected peripheral blood (immunogen: protein, peptide, small molecule, virus)

9-10 weeks

Step2: cDNA synthesis (Clients can provide cells)

* Total RNA extraction
* RT-PCR

* PCR amplification with Actin-specific primers to identify the quality of cDNA

1 day

Step3: Antibody Library construction

* Primer design & synthesis

* PCR amplification of variable region genes of heavy using cDNA as a template

* Plasmid construction & transformation: after enzyme digestion, Antibody sequence and phagemid vector were ligated and transformed into TG1 host bacteria by electric shock to construct antibody libraries

* Identification: 20-50 clones were randomly selected, PCR identification, sequencing and analysis of antibody sequences

3-4 weeks

Step4: Antibody Library Screening (3 Rounds)

* The antigenic limit pressure method is used for 3 rounds of panning

* Identification: 96 clones were randomly selected for ELISA titer determination

* Up to 96 positive clones were sequenced, and the 10-15 clones were selected for prokaryotic expression transformation

* 10-15 positive clones were expressed to construct antibody supernatant

3-4 weeks
Note:
1. If the client provides camel peripheral blood lymphocytes, lymph node cells or spleen cells (avoid RNA degradation, dry ice transport), the service can start from the second step to construct VHH antibody library, only 3-4 weeks is needed.
2. Cell lysates were prepared using Trizol solution and transported on dry ice.
Deliverables:
--Experimental report: including detailed construction procedures and representative sequence information
--Antibody library 3-5ml, >1⨯1013 /ml phage particles, Effective storage capacity>109
--10-15 positive clones were expressed to prepare antibody supernatant (Sequence non-repetition)
--10-15 expressing strains of positive clone (Sequence non-repetition)
Service Highlights:
--The resulting antibodies have higher specificity and affinity
--Sequence diversity
--Multiple antibody expression validation options are available
--Antibody sequence humanization service is available
--Rich experience accumulation, mature technical route, stable and reliable product quality, high sensitivity
--Strict quality control system, standardized operation process, to ensure the quality of antibodies
--A variety of expression systems for different antigen production
--Providing mass production services of monoclonal antibodies to meet the needs of industrial production
--Providing integrated services from antigen preparation to phage library construction and antibody screening
--Providing antibody labeling, antibody pair screening, kit development, immunological testing and other value-added services
How to Order?
If you have any questions regarding our services or products, please feel free to contact us by E-mail: info@kmdbioscience.com or Tel: +86-400-621-6806;