Sheep Monoclonal Antibody Production Background:
Sheep is considered one of the most widely used host species for raising antibodies. Similar to goat, sheep belongs to the subfamily Caprinae. Thus these two species share a lot in common. One common feature is that they both possess a large volume of antiserum, which makes sheep another appropriate option for large-scale antibody production, with typically around 200-300 mL of serum yield for each. This allows researchers to obtain total antibodies from a single sheep, thus eliminating individual variabilities. Notably, sheep demonstrate greater immune sensitivity, enabling a much wider range of epitope recognition than other candidates of host species. Monoclonal antibodies from immunized sheep are generally of higher specificity and affinity than standard mouse/rat monoclonal antibodies, which indicate great potential for biomedical, veterinary, and agricultural purposes.
KMD Bioscience is a provider of mature monoclonal antibody products, we offer high-quality monoclonal sheep antibody production service to our customers for distinguished research applications.
Service Process: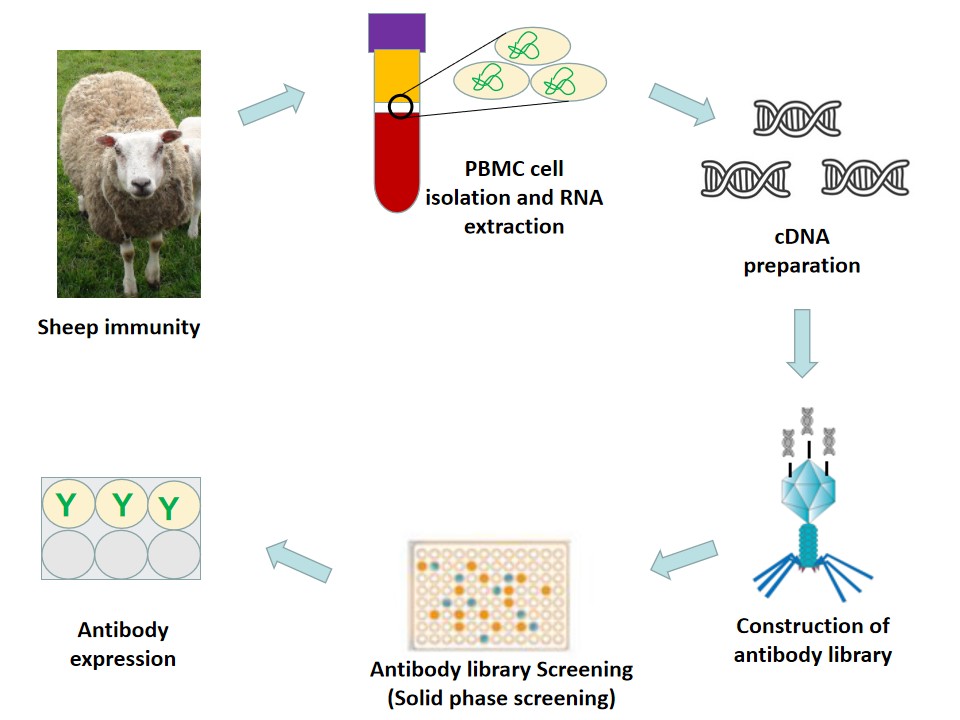 Service Procedure:
Steps

Specification

periods

Step1: Sheep Immunization

* A healthy, full-aged Sheep was immunized 5-7 times

* Serum titers were measured by ELISA and collected peripheral blood

9-10 weeks

Step2: cDNA synthesis (Clients can provide cells)

* Total RNA extraction
* RT-PCR

* PCR amplification with Actin-specific primers to identify the quality of cDNA

1 day

Step3: Antibody Library construction

* Primer design & synthesis

* PCR amplification of variable region genes of heavy using cDNA as a template

* Plasmid construction & transformation: after enzyme digestion, the antibody sequence and phagemid vector were ligated and transformed into TG1 host bacteria by electric shock to construct antibody libraries

* Identification: 20-50 clones were randomly selected, PCR identification, sequencing and analysis of antibody sequences

3-4 weeks

Step4: Antibody Library Screening (3 Rounds)

* The antigenic limit pressure method is used for 3 rounds of panning

* Identification: 96 clones were randomly selected for ELISA titer determination

* Up to 96 positive clones were sequenced, and the 10-15 clones were selected for prokaryotic expression transformation

* 10-15 positive clones were expressed to construct antibody supernatant

3-4 weeks
Note:
1. If the client provides camel peripheral blood lymphocytes, lymph node cells or spleen cells (avoid RNA degradation, dry ice transport), the service can start from the second step to construct VHH antibody library, only 3-4 weeks is needed.
2. Cell lysates were prepared using Trizol solution and transported on dry ice.
Deliverables:
--Experimental report: including detailed construction procedures and representative sequence information
--Antibody library 3-5ml, >1⨯1013 /ml phage particles, Effective storage capacity>109
--10-15 positive clones were expressed to prepare antibody supernatant (Sequence non-repetition)
--10-15 expressing strains of positive clone (Sequence non-repetition)
Service Highlights:
--The resulting antibodies have higher specificity and affinity
--Rich experience accumulation, mature technical route, stable and reliable product quality, high sensitivity
--Strict quality control system, standardized operation process, to ensure the quality of antibodies
--It has a perfect protein platform and a variety of expression systems for choice
--Providing mass production services of monoclonal antibodies to meet the needs of industrial production
--Sequence diversity
--Multiple antibody expression validation options are available
--Antibody sequence humanization service is available
--Providing integrated services from antigen preparation to phage library construction and antibody screening
--Providing antibody labeling, antibody pair screening, kit development, immunological testing and other value-added services
How to Order?
If you have any questions regarding our services or products, please feel free to contact us by E-mail: info@kmdbioscience.com or Tel: +86-400-621-6806